Inclusion Now 53
Katie Matthews: my story
---
Katie was born with Downs Syndrome, adopted, and supported through mainstream school and college. After a range of voluntary and insecure jobs Katie is now Learning Disability and Autism Network Manager at NHS England.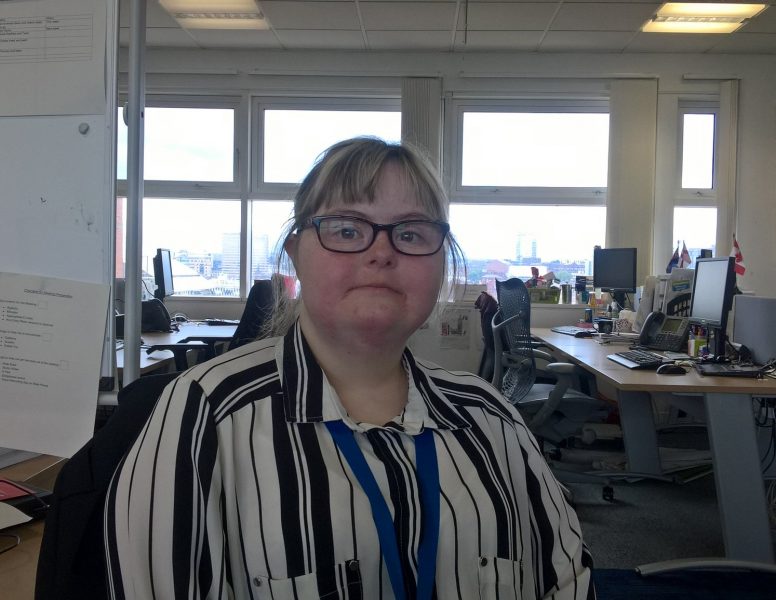 "I am Katie and I have Down's Syndrome. I don't mean to brag, but I feel that I have achieved success in the face of adversity. I have come out of mainstream education with 8 GCSEs, an A-Level and 3 BTEC Diplomas. I have done voluntary work in charities and had casual pay on minimum wage, which means that this is my first real job.
"I spent all my life in mainstream education, which allowed me to be treated just like everyone else, without any special treatment. Well, that's what I thought! But I didn't have friends in high school and I was getting teased a lot. My brother soon sorted that out by sticking up for his little sister, but I was still a loner no-one talked to.
"But still, I managed to survive Beckfoot High School and get 8 GCSEs, an A-Level and a BTEC Diploma at Leeds City College. Which accidentally made my brother jealous because he only got 5 GCSEs. Oops! Sorry! I do love you! When I got to college, I wanted things to be different. So I did things I wasn't proud of in order to impress them. All that did was get me in trouble. I got through three years at college getting two BTEC Diplomas.
"After college I got voluntary work and casual pay. I started working voluntarily at People First Keighley & Craven and at Down's Syndrome Training & Support Service Ltd. I campaigned against injustice for people with a learning disability such as the Taxi Campaign. This is a campaign to stop taxi drivers making people in wheelchairs pay double because the clamping and seatbelts take up extra time.
"I tackled Disability Hate Crime which included creating awareness, doing presentations and sitting on different boards and panels such as the Hate Crime Scrutiny Panel, Hate Crime Third Advisory Group and the Hate Crime Action Group. I have also worked in crèches for babies and infants with Down's Syndrome, a Youth Club for teenagers and young adults with Down's Syndrome, as well as doing front of house, admin work, training courses and so much more. I was paid for this work, but it was casual pay, as and when I was needed.
Why did I want to work for NHS England?
"I have spent most of my life alternating between voluntary work and casual pay on minimum wage. This job has given me not only equal pay but also equal rights and equal responsibility. It has not only given me a purpose in life, but it has also made me see myself in a different perspective. I now have a responsible job as a Network Manager, which means people rely on me to be professional. I want to prove to myself that I can do this. And most importantly, I want to prove everyone who ever doubted me wrong. "This is real. This is me. I am exactly where I am supposed to be."
"I did make a lot of mistakes in my previous jobs, but I did learn from them, and continue to do so. That did not stop some people from my previous work messing me about and stabbing me in the back. They did not even think about whether I needed any extra support to do my best in my work.
"However, I have this extra support in this job to help me to achieve my potential and I seriously don't know how lucky I am. This is the best thing that has ever happened to me. I am going to do whatever it takes to stay here forever, and I will not let you down. That is a promise. I enjoy organising big events, giving big presentations in front of loads of people and interviewing the big CEOs of NHS England. But the main thing I enjoy about my job is the people I work with. We get on really well and I would like to think I have got friends for life. My department are so open and supportive, that you can get help and advice from everyone in the office.
What I do in my role:
"The Learning Disability and Autism Engagement Team acts as a bridge between NHS England's decision makers and people with a learning disability, autism, or both, and their families and carers. Our team ensures that people get their voices heard and have their say about the health and care services that they use, and have equal rights too.
"The team is based in Leeds, but, we are a national organisation and we travel all around the country to make sure everywhere in England lets people with a learning disability, autism, or both, and their families and carers, have their say about the health and care services that they use.
"My role in the team is their Social Media Lead, where I find different ways to include people with a learning disability, autism, or both, and their families and carers in a way that is more inclusive to them. As part of being inclusive, our team holds various different events for our national forum, where everyone comes together to give feedback on the work NHS England does. I help organise, plan and facilitate these events, advertise it on our social media and sometimes even speak at them.
"I also have a similar role in the team's Learning Disability and Autism Advisory Group made up of fifteen experts by experience who link with their various networks to help us engage with more people in inclusive ways.
What do you care most about?
"Honestly, what I care about the most, has to be my family. I have lost my grandma and my brother who I loved deeply, but that has made me stronger than ever. The bond that I have with my mum, and the fact that I have got this amazing job. This has kept me going!
What I would like to do with my life?
"I would like to have a contract in this job for as permanent as I can possibly get it, so I can have the best job ever with the most amazing people ever. I would like to, one day, get a promotion, if it ever comes up. But I don't want to leave this company, and I definitely do not want to leave this amazing department. I want to organise more work nights out and socialise more, because I grew up without any friends and without a social life. I want to go on more holidays abroad, see the world and do new things with my mum. I know she's getting on a bit and can't do as much. But I can't imagine doing it with anyone else. I just want the life I never had! I know that sounds selfish. I love my brother and I would do anything to bring him back. But we have finally got some freedom. We finally have a life!