Inclusion Now 59
Reflections on 'Disabled Women on the Frontline': An International Women's Day Event
---
By Yewande Omoniyi-Akintelu, ALLFIE Office Volunteer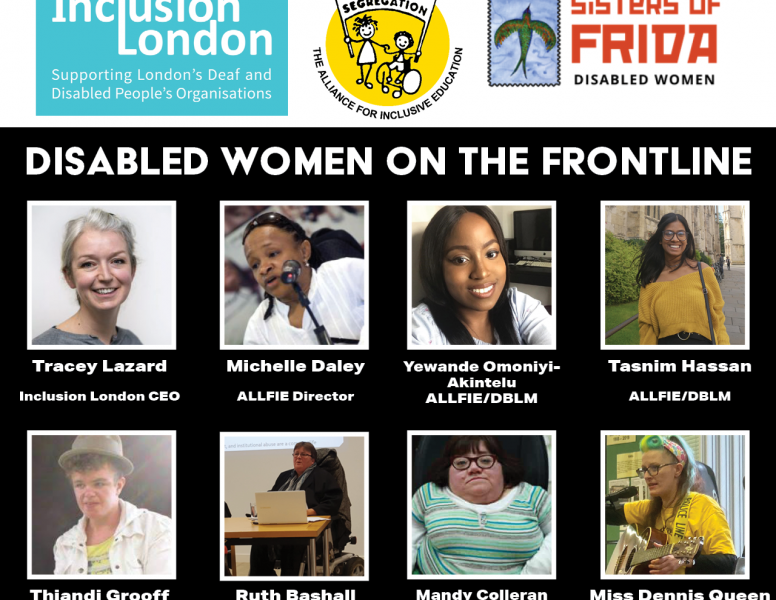 On 26 March 2021, ALLFIE held an online event with partners Inclusion London, Sisters of Frida and guests. The aim was to explore the issues for Disabled Women on the frontline, as well as to amplify our voices and celebrate the contributions of Disabled Women and Girls within the Disability Rights Movements.
"We, as Disabled women occupy a very interesting place. We are at the frontline, often, of discrimination and inequality, also often at the multiple intersections of race, class, gender, and disability, but we are also at the frontline of change and our struggle for social justice"
(Tracey Lazard: Co-Chair)
Highlights of the event are captured in this short YouTube film
Yewande Omoniyi-Akintelu took part as a panelist, to represent ALLFIE's vision for an inclusive education system, and reports back on her experience:
"From an ALLFIE point of view, because we campaign against segregated education, there seems to be a lack of interest from funders and people who run projects to look at intersectional issues. So, you are segregated in education for example, you are further disadvantaged if you have more than one identity, that's to say if you are a Black Disabled Woman, your chances of being segregated are even further. One of the things I discovered in my work with ALLFIE is the UN-CRPD, the UN Convention for the Rights of Persons with Disabilities, is written in an intersectional way but it's not being applied in an intersectional way. So, when it's being talked about, especially in the UK, people don't consider the other identities that a Disabled woman may have."
In March this year, I was asked by our director, Michelle Daley, to be a panelist for our joint International Women's Day (IWD) event, with Inclusion London and Sisters of Frida, on the theme of: 'Disabled Women on the Frontline.'
The aim of the event was to discuss issues including:
What barriers we face as Disabled women in our work and activism
What we can do to amplify the voices of Disabled Women and girls within the Disabled people's movement
Campaigning in mainstream feminist spaces
Preparing for Disabled Women on the Frontline event
I was very nervous to be on the panel, as I was aware that I'd be sharing the panel with so many amazing Disabled Women activists that have so much experience and have been campaigning for many years. So, I was happy to hear that I would also be sharing the panel with other Young campaigners, Tasnim Hassan and Thiandi Grooff. Tasnim (an ALLFIE Trustee) and I are members of ALLFIE's Disabled Black Lives Matter (DBLM). I really enjoyed hearing about everyone's areas of work and learning about the different things that they campaign on.
Events like this are so important, because Disabled Women are not often welcomed in mainstream feminist spaces.
Creating a space for discussion
The event created a safe and open space for honest discussion, and it was good to discuss our shared experiences with the other panelists. I also enjoyed the chance to put across my perspective of being a Black Disabled Woman, and the intersectional issues I experience. In both the Disabled people's movement and the feminist movement, we don't often get to hear from Disabled Women with intersectional identities, who experience different types of discrimination particularly gender-based issues in education. In my opinion, talking about and showing solidarity to current campaigns, like Black Lives Matter and Reclaim Our Streets, will help to encourage younger Disabled Women to be part of the movement, especially those with intersectional identities. I also think Disabled Women's organisations using social media more will help keep them updated about what issues are trending for Young Disabled Women.
My event highlights
The event gave me a chance to hear about an area of activism that I don't know much about, such as sexual violence against Women and girls that one of the panelists, Ruth Bashall, from Stay Safe East, has been campaigning on for years. It was also great to see so many people from Women's rights organisations attending as part of the audience for the event. I had a chance to put across ALLFIE's view of ending segregation to promoting equal rights.
In my opinion, we will not be any closer to achieving equality for Disabled Women unless we start talking about ending segregated education.
I got to speak about making rights accessible to Young Disabled women. I believe that is the key to encouraging Disabled Young Women to join the movement. I enjoyed hearing about issues, such as how to make direct action and protest more accessible, especially in COVID-19 times. The event was also made as accessible as possible, with BSL interpreters and closed captioning, which allowed more people to join.
Learning from lived experience
I think the most important thing that I took from the event is that lived experience is so essential to help amplify the voices of Young Women and girls in the movement. My lived experience has been so helpful in understanding and finding my place in the movement. Even though I don't always feel experienced enough yet, as I am still learning every day, my lived experiences as a Black Disabled Woman have given me a unique outlook. I think many Young Women coming into the Disabled people's movement might feel overwhelmed by not having campaigning experience, but they should never underestimate their lived experience. This is why the IWD event was so important and successful. It created a space where Disabled Women of different ages and backgrounds felt empowered to use their voices and talk about issues that matter to them. I hope there will be many more events like this in the future.