Inclusion Now 50
Editorial
---
In our 50th edition ALLFIE's Chair, Navin Kikabhai, looks back – and forwards.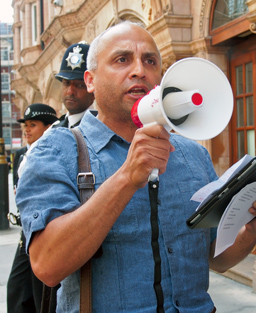 Another first for me! I would never have guessed that being the Chairperson of ALLFIE would also bring this amazing celebratory opportunity to provide the editorial for its 50th edition of Inclusion Now. What an incredible achievement of over 17 years of sustained and focused work targeted at the realisation of inclusive education. Reading the first volume, it set out a series of questions, about the what, why and how of inclusive education. It draws upon personal experiences and reflections, engages with teaching and learning practices, highlights legislative changes, reports on discriminatory practices, and offers international and global perspectives. Today, ALLFIE, can respond to those initial questions with determination because we are able to draw upon the numerous contributions that have highlighted this struggle for change. All of this could not have been achieved without you.
Whilst many of the contributions have had personal elements to them, I have lived through an important shift of emphasis for ALLFIE as an organisation. We have informed, lobbied and campaigned for our rights to inclusive education. Whilst there is serious work yet to be done, we have recognised that this is much more than attitudes. The struggle for inclusive education requires structural change, an openness to address the balance of power, to embed protective rights in our legislative and policy documents. We have strategically formed alliances, extended our reach across the whole of the education sector, adapted to using multiple technologies, engaged in critical debate, completed collaborative work, and more.
Inclusive education is not a choice, but a fundamental vehicle for human dignity, respect and celebration of difference. It requires a paradigm shift from 'needs' to entitlements, rights not charity, and nothing about us without us. In this 50th edition, you will read about … well I'll leave this for you to find out, and only to say enjoy the snakes and ladders!
Happy 50th edition.
Other posts