Briefing
Inclusion Matters to ALLFIE: In Solidarity with Black Lives Matter Movement
---
Read ALLFIE's statement in solidarity with Black Lives Matter Movement and view our new video series: Voices of Disabled Black Campaigners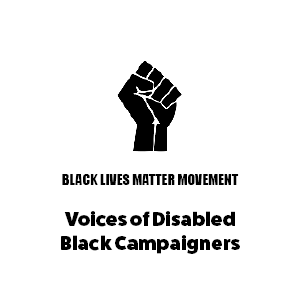 The horrific killing of George Floyd in America has resulted in global mass protests calling institutions out about the deep level of racial injustice and intersectional oppression, and demanding for radical change.
ALLFIE stands in solidarity with Black Lives Matter movement to condemn all forms of violence, abuse, injustice and demand everyone has a right to be respected and free from discrimination.
Reports have shown that the education system has disproportionately failed disabled black children and young people in the UK. The 2019 Timpson review on school exclusion reported that a Disabled Black boy from a under-resourced background with an Education, Health and Care plan has 58% chance of being excluded from school:
"Children need to be valued and the education system needs to be inclusive of all and we have seen some changes that have happened to disabled people and disabled children, but not for black disabled children" (Saádia Neilson)
We are committed to continuing our work to ensure we are not mutually exclusive in our work and don't view 'disability' as a single issue. We know that:
"there is no thing as a single-issue struggle because we do not live single-issue lives." (Audre Lorde)
This is why ALLFIE has produced a video series with Disabled Black campaigners because we want to show solidarity to Black Lives Matter movement but also recognise the voices and contributions of Disabled Black People to our campaign for human rights (we will be adding further videos throughout the week so please check back):
Black Lives Matter | Voices of Disabled Black Campaigners 1
Black Lives Matter | Voices of Disabled Black Campaigners 2
Inclusion matters to us this is why we must educate, don't segregate.
In solidarity and unity